LBO Modeling(Wall Street Prep) 介绍
内容介绍
LBO Modeling是Wall Street Prep 中专注于介绍LBO的课程,是Premium Package的其中一个部分
杠杆收购(LBO)模型被投资银行和私募股权公司广泛使用,通常是财务面试的一部分。在本课程中,您将学习如何从头开始建立一个真实、复杂的LBO模型。 您将从学习基本的LBO概念、典型的交易结构和当前的行业动态开始。然后,您将开始逐步建立模型,涵盖建立收购模型时出现的最常见和最具挑战性的问题。课程最后将进行敏感性和情景分析,以及如何建立输出表,这是任何专业级LBO分析的关键。
因为LBO的使用非常广泛,所以官方也单独提供LBO的购买
如果需要Premium Package全套或者对多个Modeling课程都有学习计划,还是建议大家直接购买Premium Package,还附赠了36个Bonus课程
快捷链接:https://www.forbanker.com/wall-street-prep-review-premium-package/
The LBO Modeling program included in the Premium Package is now available as a stand-alone course. Designed for investment banking and private equity professionals who want to take their LBO modeling skills to the next level.
LBO课程是想进入Investment Banking,特别是Private Equity领域必会的一个知识点,强烈建议这部分童鞋熟练掌握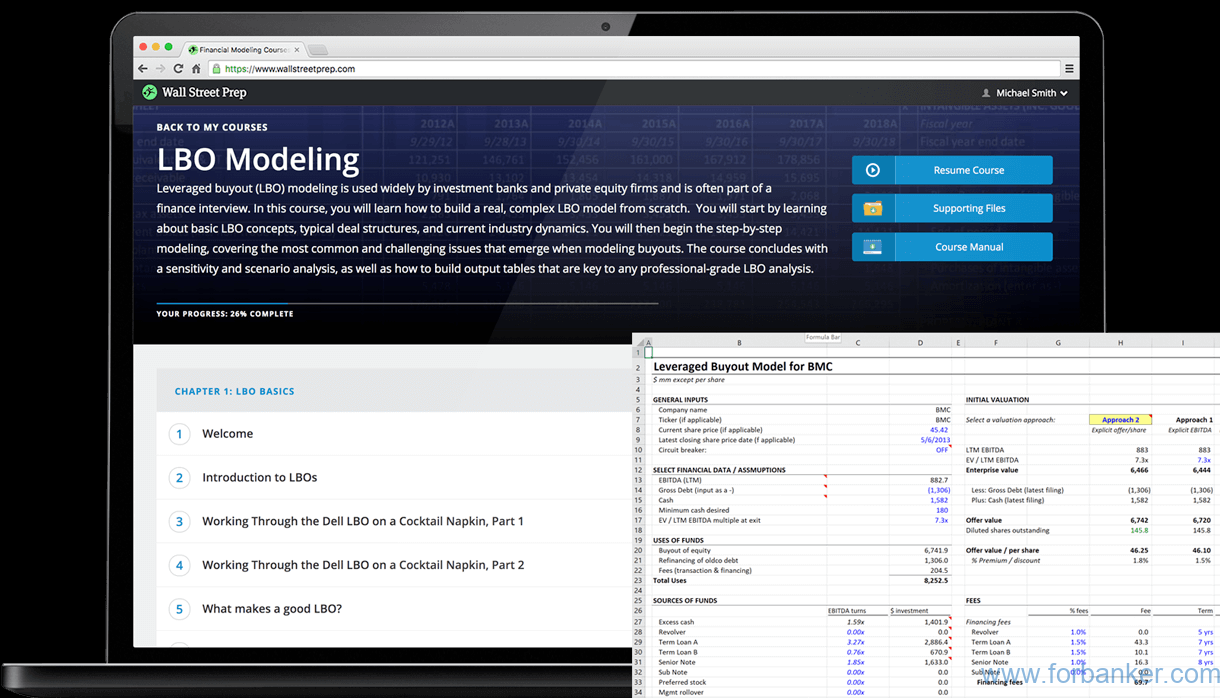 能学到什么
Learn how an LBO / Recapitalization works given today's benchmarks and credit environment
Develop an "industrial strength" LBO model driven off a fully integrated 3 statement model
Integrate switches for LBO vs. Recap accounting treatment
Toggle between tax and valuation implications of asset deals, (338(h)(10) election, and stock sale
Learn best practices for modeling Senior, Revolver, Sub, Mezzanine and Preferred stock
Add a PIK toggle to various debt tranches
Integrate cash sweep functionality into term loan debt tranches
Build the Sources & Uses (S&U) schedule – the correct way
Analyze & sensitize IRRs for sponsors, management, preferreds, and mezzanine
Modeling complex accounting adjustments including deferred taxes, fair value write ups, and goodwill
Attach a DCF valuation to your LBO
Use as a reference to get ahead on the job and in your career
Gain the confidence to ace your private equity interviews
课程目录
2
Introduction to LBOs
7:25
3
Working Through the Dell LBO on a Cocktail Napkin, Part 1
8:07
4
Working Through the Dell LBO on a Cocktail Napkin, Part 2
5:42
5
What makes a good LBO?
4:26
6
Current LBO Environment, Part 1
7:51
7
Current LBO Environment, Part 2
9:10
8
Current LBO Environment, Part 3
6:55
10
Tax Reform Impact, Part 1
3:51
11
Tax Reform Impact, Part 2
4:45
12
LBO Capital Structure – Equity
4:02
13
LBO Capital Structure – Debt
7:04
14
Term Loans & the Revolver, Part 1
6:43
15
Term Loans & the Revolver, Part 2
7:16
18
Mezzanine Financing & Bridge Loans
3:39
19
Extended Dell LBO on a Cocktail Napkin, Part 1
2:46
20
Expanded Dell LBO on a Cocktail Napkin, Part 2
6:07
CHAPTER 2: THE STRUCTURE OF PE FIRMS & INVESTOR DYNAMICS
24
Tax Reform Impact on the Structure of PE, Part 1
5:11
25
Tax Reform Impact on the Structure of PE, Part 2
4:42
26
Whole-Fund vs. Deal-by-deal Distribution Model
2:34
27
Distribution Waterfall Exercise, Part 1
10:12
28
Distribution Waterfall Exercise, Part 2
3:41
CHAPTER 3: MODELING A REAL LBO
29
Case Study Introduction: The Leveraged Buyout of BMC
5:25
31
Initial Valuation: Offer Price vs. Enterprise Value
10:00
32
Diluted Shares, Part 1
12:26
33
Diluted Shares, Part 2
5:21
34
Sources and Uses of Funds, Part 1
13:20
35
Sources and Uses of Funds, Part 2
9:52
36
Creating the Historical Income Statement
13:24
37
Forecasting the Income Statement, Part 1
7:04
38
Forecasting the Income Statement, Part 2
8:35
39
Forecasting the Income Statement, Part 3
3:27
40
Forecasting Accounts Receivable
6:22
41
Forecasting Other Working Capital Items
10:30
42
Preparing the PP&E Schedule
10:44
43
Preparing the Software Development Costs, Intangibles and Goodwill Schedules
9:59
45
Forecasting Software Development Costs
2:16
46
Forecasting Intangibles, Goodwill, Other Assets & Other Liabilities
5:58
47
The Cash Flow Statement
7:05
49
Interest Income and Circularity
5:27
50
Modeling the Revolver
8:55
51
Modeling Required Debt Amortization
6:57
52
Modeling Cash Sweeps
12:33
53
Modeling the Revolver Borrowing Base Compliance
5:12
54
Modeling PIK Debt & Preferreds
4:05
55
Capitalized Financing Fees
2:23
56
Modeling Interest Expenses
16:58
57
Completing the IS and CFS
2:29
CHAPTER 4: LBO EXIT & RETURNS ANALYSIS
58
Model Review and Introduction to Exit Analysis
5:16
59
Enterprise Value at Various Exit Multiples
7:57
60
Exit Equity to Sponsors & Management, Equity Kickers to Mezz
7:24
61
Returns to Senior Debt
8:24
62
Returns to Sub Debt
5:39
63
Modeling IRRs and Cash-on-Cash Returns
3:43
64
Creating an LBO Summary Table
6:26
CHAPTER 5: SENSITIVITY ANALYSIS
65
Modeling Hurdle Rate Sensitivity
11:16
66
IRR Sensitivity to Leverage and Valuation
7:12
67
IRR Sensitivity to Mezz Debt Terms
11:43
CHAPTER 6: PRO FORMA BALANCE SHEET ADJUSTMENTS
69
Setting up the Historical Balance Sheet
6:16
70
Adjusting the Balance Sheet to Reflect the LBO
11:58
71
Modeling LBO Goodwill and a Recap Toggle
3:16
72
Pro Forma Balance Sheet (PFBS) Historicals
2:30
73
Forecasting PFBS Assets
4:28
74
Forecasting PFBS Liabilities & Equity
11:26
75
Post-2015 financing fee rules in LBO models
12:03
APPENDIX I: DIVIDEND RECAPS
77
Understanding BMC's Dividend Recap
4:52
78
Adjusting the Model for BMC's Dividend Recap and PIK Toggle Sub Debt
3:43
79
Alarm Over Dividend Recaps
3:35
APPENDIX II: ADVANCED PURCHASE PRICE ALLOCATION MODELING
80
Modeling Asset Write Ups
7:50
81
Asset Sale (338)/Stock Sale Toggle and DTLs
7:36
82
Impact on the IS and CFS
8:47
83
Impact on the Balance Sheet
5:06
APPENDIX III: ATTACHING A DCF ANALYSIS TO AN LBO MODEL
84
Adding a DCF Analysis to the LBO Model
10:08
APPENDIX IV: KKR LBO OF BMC IN 2018
85
What the KKR deal tells us about likely actual IRRs
13:57
APPENDIX V: DEBT DEEP DIVE
86
Leveraged Finance: Debt Deep Dive
Reading
购买
请到官网购买
Please purchase from official website
课程原链接
www.wallstreetprep.com/self-study-programs/adv-lbo-modeling/
希望看到这里的童鞋们:事事如意,(面试)试试如意! 有任何疑问可添加微信号(扫码添加): 美东时间作息时间回复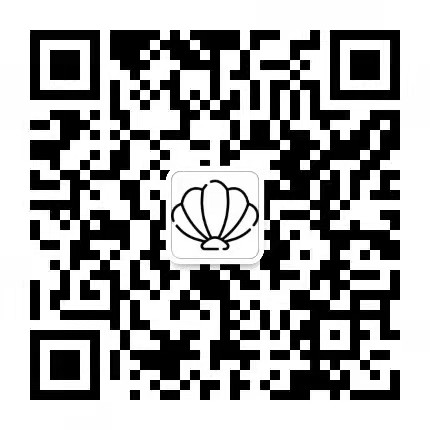 福贝壳儿
»
LBO Modeling(Wall Street Prep) 介绍